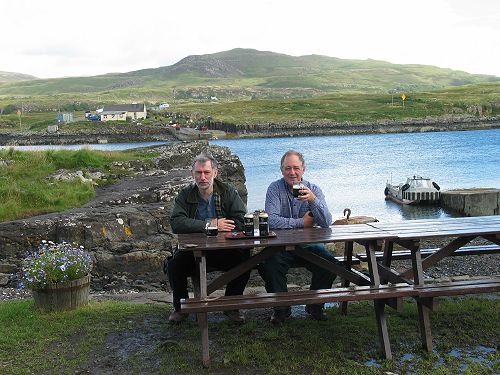 We stayed in a wonderful farm house on Mull near the Ulva ferry.
The small island of Ulva (pop about 10) proved excellent walking territory, with well marked tracks, old farms, a Telford church and links to both David Livingstone and Lachlan MacQuarie, first Governor General of New South Wales ("Father of Australia").
Drinking canned Guinness outside The Boathouse on Ulva looking back at Mull
We recommend the Isle of Mull. The pace of life is slower, partly due to the single track roads, which are testing and exciting often with highland cattle strolling down them in a leisurely way. There are eagles and sea eagles, the beautiful town of Tobermory, wild countryside and deserted beaches (go to Calgary on the west coast), and ferries to Iona and Staffa.
View this panorama and this panorama with QuickTime.