(... and sometimes take their wives).
Not long walks. Not far. Just walking from one pub to another through rural scenery, at first in Suffolk and Norfolk but increasingly in other parts of the country within about 90 minutes of our base, Cambridge. It's no fun to drive further on a Friday evening.
However as our time freed up we set ourselves the Grand Challenge of walking at least 6-8 miles in every one of the traditional 39 English counties. This mighty challenge we completed in Cornwall in April 2015 and we are now well on the way to covering Wales, hoping to finish in Anglessey in July 2017.
Meanwhile Duncan is attempting all 34 Scottish counties too - target 5 miles or so. More here....
Need walk suggestions and routes? get a subscription to Walking World! A terrific resource for walkers.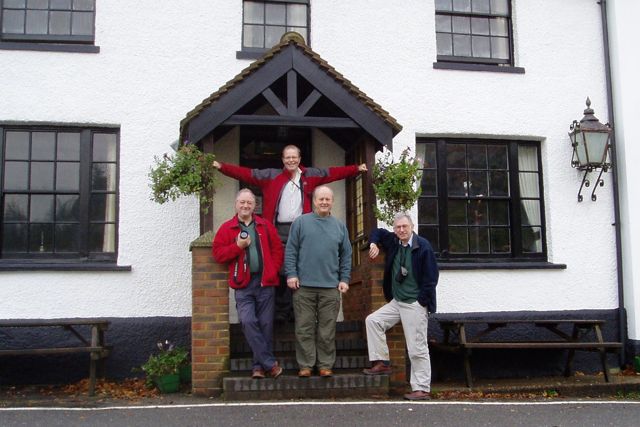 We prefer real ales of all sorts, we talk about life, the universe and everything - and we end up in another pub, usually suggested by The Good Pub Guide.
The food will be good, the beer excellent and we sleep well before a good breakfast, a glance at the papers and another walk. That's our simple winning formula. To achieve 6-8 miles in two counties far from home we now leave on Friday morning, walk 5 miles or so in the first county, eat well in our accommodation and on Saturday walk 6-8 miles in the second county. We then eat in a second place, for variety's sake, and on Sunday morning finish off with a further 4-5 miles in the first county, relaxing with lunch before heading home again.
We can't testify to the current truth of what we've seen, as landlords, pubs and chefs move on and quality is changeable. We hope, though, that you'll find it worth looking around at the real delights of the English countryside. We love it and we aim to explore every part of it.
This is a brief record just for us, but if you find it interesting, you're welcome!
Enjoy your walking. And if you recognise that walking is also exercise for the mind read this.
Four Blokes Who Do Walks
Links to further information are on the links page.
Our progress around the 39 counties here.
Webmaster: Duncan Grey