DUNCAN GREY - Learning Consultant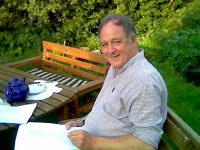 CURRICULUM VITAE
Freelance writer, web designer and trainer specialising in education and online learning, Duncan Grey is available to write, speak or give In-Service Training for teachers on Information Literacy, the Internet in schools, School Resources Centres, Flexible Learning, Personal and e-Learning. e-mail dsg@post.com or tel 01223 842191
Previously Senior Teacher, Head of Learning Resources, teacher of English and linguistics, Webmanager at Hinchingbrooke School, Huntingdon UK
Currently
Providing an educational consultancy including in-service training, resources design and website management.
Recent Publications
Recent Training given (selected list)
"Implementing Information Literacy In Your School" Lancashire branch of the School Library Association (Nov 2008)
"Working with teachers on the information literacy curriculum," for School Library Association
"Planning for variety in teaching and learning," for Filton College, Bristol (March 2006)
"Using Information Skills to Improve your Learning Resources Centre" for the Lighthouse training organisation 2002-5
"English and ICT" for the Cambridgeshire Partnership Graduate Training Programme.
"Information Literacy in the Resources Centre" School Libraries Association Annual Conference (June 2005)
"Information Literacy in your school" for Tower Hamlets LEA
History
Writing a regular "How To" column in the Times Educational Supplement (2007-8)
Consultant for BECTA on information literacy (Autumn 2008)
Writing for SfE, BECTA and NATE on English and ICT
2003 - present, freelance education consultant, trainer and writer; Portal Manager, Cambridgeshire Education Portal
Consortium steering committee & school coordinator, E2B Broadband project
Training on School Learning Resources Centres for the SFE training organisation (1998-2002)
Wrote The Internet in School (two editions1998-2001, Continuum)
School coordinator for Comenius European project.
Education Advisor for AngliaCampus
Part of the Schools Online Project 1995-97
1995-2003 School Webmaster. First UK Secondary School on The Web, 1.2.95.
1992-94 Coordinator for Huntingdonshire TVEI Consortium, responsible for Flexible Learning
"The Newspaper File" with Alysoun Hayhoe Cambridge University Press 1991
1988-89 On Teacher Exchange to Whitefriars College, Melbourne, Australia.
1983-2003 variously Head of Lower School English, Deputy Head of English, Head of Learning Resources, INSET Coordinator etc, Hinchingbrooke School, Huntingdon.
1976-83 English Teacher at Netherhall School, Cambridge.
1975-76 English teacher with Kursverksamheten in Fagersta, Sweden, teaching adults English as a foreign language.
1971-75 Bede College, Durham University. Bachelor of Education 1975.