Desk Top Publishing Newspapers I
A Newspaper is a classic use of Desk Top Publishing. Professional newspaper editors use text and photographs produced by journalists and photographers many miles away and combine them with diagrams and headlines created at home to produce a newspaper which must be printed in yet another place and transported around the country. Photographs can be sent via mobile phones directly from the scene of a disaster or a sporting event arriving in the editor's office minutes after the picture has been taken. Look at the Daily Telegraph or its Web site The Electronic Telegraph for examples of up-to-date news combining text and graphics.
Here's one I prepared earlier:
I visited the Electronic Telegraph and downloaded this picture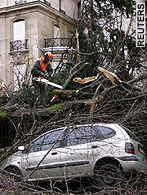 and this text:
AT least 62 people died as winds of up to 132 mph tore through northern Europe leaving a trail of destruction. The victims included 29 in France, 11 in Switzerland and 15 in Germany.
Freak weather left Paris in chaos. Airports at Roissey-Charles de Gaulle and Orly had to be closed, along with the Tuileries Gardens and the Royal Palace of Versailles, where thousands of trees were uprooted and ancient windows shattered.
In Paris walls and roofs collapsed. Streets were littered with broken shutters, upturned trees and twisted metal. The awning of the Lido topless cabaret show was hurled down the Champs-Elysees, hitting a police car. Bus shelters in the famous avenue were smashed as Christmas decorations were ripped from department store buildings.
A couple were killed in the French capital when a chimney crashed into their flat. Their new-born baby was found alive in the ruins. Several people were killed as trees fell on their cars.
At one point yesterday, seven of the city's 14 Metro lines were shut as well as nearly all commuter rail services to and from the suburbs. In Le Havre, a woman was drowned after being blown into the harbour.
Multiple car pile-ups, caused by falling trees, left widespread injuries. At Ille-et-Vilaine, north-western France, three people died as their cars skidded into an uprooted fir tree. Falling trees created panic at the Disneyland theme park, 20 miles outside Paris, where 2,500 guests had to be evacuated from the Davy Crockett Ranch hotel after six people were injured.
In the Swiss ski resort of Crans Montana, an uprooted tree smashed through a lift cable, sending a gondola and its five occupants crashing on to a slope. One of the skiers died and two more were seriously injured. In Zurich, an elderly man was blown to his death off a roof and a driver was killed when a tree fell on to his car.
A swimmer in a pool at Dielsdorf, outside the city, was killed by falling debris as were a six year-old child and two elderly men in Argovie in northern Switzerland.
In Germany, three people were killed near Karlsruhe, in Baden-Wuerttemberg, when their car was crushed by a falling tree. Two more died in a similar accident near the Bavarian town of Erding. A 55-year-old woman walking in a forest near Esslingen was killed by a tree. In Belgium, heavy rain flooded roads near Liege and Namur. And in freezing temperatures in Moscow, five people died of hypothermia.
The Electronic Telegraph and the Daily Telegraph lay out their pages according to their style guides. You can make your own style guides and decide yourself how you want to present your information.
Each national newspaper has its own style guides which make that newspaper different from other national papers. Local newspapers also have their own priorities which generally make local news more important. they might, for instance emphasise the fact that a local man was killed in the French storms, rather than that a larger number of French people had been killed. The headline "Small Earthquake in Chile - Cambridge Man Slightly Injured" may give you the idea.
Use your dtp program to lay out this story as a front page story for your local paper. Make sure you look at examples of your real local paper first. Make a note of :
the headline (which type face does it use, how many words in a typical headline, which words are missed out from a typical sentence, which words are chosen to emphasise the drama of the headline....);
note where the picture appears and how big it is compared to the length of the written article;
note whether the article begins with capital letters, larger or bold type, what the first paragraph contains etc;
note how many columns of text there are and how many columns the picture spreads across;
how many paragraphs there are and how many sentences there are in a paragraph.
Use these notes to design your own page for this story. Use the picture above, which is in JPEG format. Hold down your mouse button over the picture and save it to your disc. Have a separate text box for the headline and for the story. It may be helpful to have a separate text box for a caption for the picture and perhaps the first paragraph to the story. Make sure the text flows from one column to the next.
If you can manage the layout to this story you may graduate to the next lesson - but before you move on, print out your page and show it to at least three adults. Ask them " Is this page different from a National Newspaper? - If so, how?" and note their answers. Adults who regularly read newspapers will probably be able to tell you when something looks different though they may have difficulty in telling you why. You could change your layout or design to make it seem more realistic.
Do you think this layout looks like a real newspaper? Give reasons why and why not...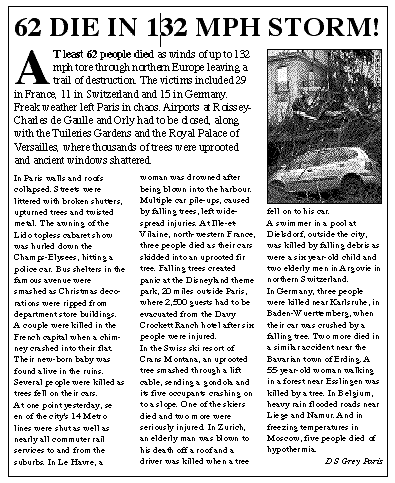 Lesson 15