Twa Corbies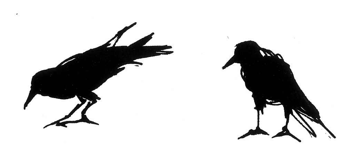 Here are three versions of this medieval ballad.
The first is the standard version in Scots dialect. The second is a translation into modern standard English and the third is another version with a slightly different story line, an English language folk ballad, printed in the song book Melismata compiled by Thomas Ravenscroft and published in 1611.
Read all three and consider the questions at the end.
Twa Corbies
As I was walking all alane,
I heard twa corbies makin a mane;
The tane unto the ither say,
"Whar sall we gang and dine the-day?"
"In ahint yon auld fail dyke,
I wot there lies a new slain knight;
And nane do ken that he lies there,
But his hawk, his hound an his lady fair."
"His hound is tae the huntin gane,
His hawk tae fetch the wild-fowl hame,
His lady's tain anither mate,
So we may mak oor dinner swate."
"Ye'll sit on his white hause-bane,
And I'll pike oot his bonny blue een;
Wi ae lock o his gowden hair
We'll theek oor nest whan it grows bare."
"Mony a one for him makes mane,
But nane sall ken whar he is gane;
Oer his white banes, whan they are bare,
The wind sall blaw for evermair."
Twa Corbies translation
The Two Crows
As I was walking all alone,
I heard two crows (or ravens) making a moan;
One said to the other,
"Where shall we go and dine today?"
"In behind that old turf wall,
I sense there lies a newly slain knight;
And nobody knows that he lies there,
But his hawk, his hound and his lady fair."
"His hound is to the hunting gone,
His hawk to fetch the wild-fowl home,
His lady's has taken another mate,
So we may make our dinner sweet."
"You will sit on his white neck-bone,
And I'll peck out his pretty blue eyes;
With one lock of his golden hair
We'll thatch our nest when it grows bare."
"Many a one for him is moaning,
But nobody will know where he is gone;
Over his white bones, when they are bare,
The wind will blow for evermore."
The Three Ravens
There were three rauens sat on a tree,
downe a downe, hay downe, hay downe,
There were three rauens sat on a tree,
with a downe,
There were three rauens sat on a tree,
They were as blacke as they might be.
With a downe, derrie, derrie, derrie, downe, downe.
The one of them said to his mate,
Where shall we our breakfast take?
Downe in yonder greene field,
There lies a Knight slain under his shield,
His hounds they lie downe at his feete,
So well they can their Master keepe,
His Hawkes they flie so eagerly,
There's no fowle dare him come nie
Downe there comes a fallow Doe,
As great with yong as she might goe,
She lift up his bloudy head,
And kist his wounds that were so red,
She got him up upon her backe,
And carried him to earthen lake,
She buried him before the prime,
She was dead her self ere euen-song time.
God send euery gentleman,
Such haukes, such hounds, and such a Leman.
What is lost and what is gained in the translation?
Apart from a few vocabulary items what if anything distinguishes Scots from English?
One test of whether two pieces are different languages is the test of mutual incomprehensibility. If in your view these two versions are essentially the same would you agree that one is a dialect of the other?
Create a Scots phrase book using only examples from Burns' To A Mouse".
(image by Jason Fricke)