A Grey Family Tree
Duncan Scott Grey was born in Newcastle upon Tyne on 18.11.1951.
He has written the Appleby family tree for his mother's family line, she being born Irene Appleby.
There you may read about the fascinating but mysterious past of my great grandfather William Cunningham Appleby, who travelled to Jerusalem and Cairo and lived in Johannesburg until his sudden death.

This Grey Family Tree is for all members of the family both alive and dead.
If you have any information about Patrick Gray or Grey (known as Joe) who had two children - Bernardine and Francis - or his sister Mary aka Polly in Springfield, Illinois, from 1905, then get in touch!
---
John Gray c1807-27 - ?1868?

= pre 1845

? possibly married Catherine Slevin 1843 or earlier

Fanny Peel 1845-187?

Alice Jane Armstrong 1849 - 1904

= 1912

Mary Derrick 1892-1961

Edward Grey 1924 - 2013

= 1926

Irene Appleby1926

= 1976

Jenny Grieve 1955

Catherine, Philippa, Sarah Grey
Before 1800
County Leitrim was a poor Catholic rural part of Ireland. Records are few, poverty was rife.
Patrick Grey / Gray 1845 - 1913

Patrick, known as Peter, is believed to have been born in Manor Hamilton, County Leitrim, in Ireland in 1845. Family memory has it that he came to England at the age of twelve, which would have been about 1859, but it is not exactly known why he came to Newcastle upon Tyne.

It was, in those days, not unusual for young people to be independent and the deprivation following the Irish potato famines led to great numbers of people leaving Ireland for either England or North America. We have no way of knowing whom he may have travelled with or whether he travelled alone.

1. The 1861 census returns finds Patrick Gray living in Walker (actually Northumberland but practically part of the east end of Newcastle). He lodged in a house in Walker Allgate / Charcoal Row along with 8 others from Ireland. The Head of household was Michael O'Hara aged 49 with his wife Maria and daughters Ann, Alice and Winnaford (?Winifred?). Four lodgers were all labourers in an iron works, Patrick Gallagher, John Casey, John Brodrick and Patrick Gray said to be aged 20 - though he was almost certainly only 15. [PRO RG9/3844]

The limited parish records for Catholics in Leitrim (Clooneclare, which contains Manor Hamilton, has its first recorded baptismal record dated 1853) suggest that there is virtually no chance of finding anything useful in Ireland itself.

There remains an outside possibility of finding the death records of John Gray, his father, before 1868 or the birth of a close relative such as a younger brother. A John Gray and a Catherine Slevin had a child James baptised on 3.12.1843 - the only John Gray noted in Leitrim's 24 Roman Catholic parishes. One further tantalising possibility lies in the comment from MacLysaght (1969) in Surnames of Ireland:
"MacCulreavy - Mac Cathail Riabhaigh - "Cathal", Charles, "riabhach", grey or brindled. A County Longford and Leitrim name. Some families of the name have become Gray."

We have four pieces of documented evidence about Patrick Gray:Census returns 1861, Marriage Certificate 1, Marriage Certificate 2, 1871 Census return.

1. The first is the 1861 census (above)

2. The second is a marriage certificate of January 5th 1868. This shows that he was married in the Catholic chapel in Pilgrim Street, Newcastle upon Tyne, to Fanny Peel.
He was 23 years old and she was 24. His occupation was given as "quarryman", his father John Gray (deceased) was described as a husbandman. In both cases their fathers are deceased, Fanny's having been a coalminer, and their place of residence is given as Gosforth, Northumberland.
A signature on the certificate was made by Fanny, but Patrick, together with the witnesses John and Bridget McCoy, made only their marks.

2. The next appearance is in the census of 1871:

1871 Census entry
Gosforth, Northumberland
South Gosforth
Dean Houses

Fanny Peel died between 1871 and 1874.
Family memory has it that she died of tuberculosis.
The marriage had lasted between 3 and 6 years.

| | | | | | |
| --- | --- | --- | --- | --- | --- |
| Rosannah Peel | Head | widow | 74 | | Gosforth |
| Thomas Peel | nephew | unmarried | 25 | coal miner | Preston |
| Elizabeth Peel | grandaughter | unmarried | 10 | scholar | Gosforth |
| Patrick Gray | son-in-law | married | 26 | quarry labourer | Leitrim, Ireland |
| Fanny Gray | daughter | married | 26 | | Benton |

From this we gather several things. Most important perhaps the marriage details are confirmed. We see that Rosannah is back in the village of her birth even though she seems to have left it to have her daughter Fanny in Benton, a few miles away. Note also that she seems to have been 48 years old when she had Fanny. Easily old enough to be her grandmother ...
However the 1861 census details for Dene House Square repeat the fact that Robert Peel 65 and Rose Peel 63 lived with their daughter Fanny, aged 16.

3. The next record of Patrick Grey is again a marriage certificate.


On September 2nd 1874 Patrick Gray married Alice Jane Armstrong at the register office in Newcastle upon Tyne.
He is still described as a quarryman and has been widowed. John Gray, his deceased father, is here described as "mason" and Patrick's age is given as 27. Both facts contradict our earlier information.
I am inclined to believe the earlier birth date and see his claimed age of 27 as the attempt of a man beginning to feel his age compared to his young wife and inflating the status of his deceased father.

Alice Jane Armstrong was 25 years old at her marriage. Her father, William Armstrong, a forgeman, was born in Alston, Northumberland, in 1828 and married Jane Ann Storey in about 1848 but was dead by the time Alice Jane married.

In the following years they had several children:

Patrick (known as Joe) was born in 1882. He left England for the USA in 1905 and stayed with his sister Mary in Springfield Illinois. He married Agnes ? in 1908, had two children (Bernardine 1912-1993 and Francis (b 1910)) and moved to Pettis Missouri (Sedalia ) then back to Sangamon Illinois where he died in 1973. He became a naturalized US citizen some time between 1918 and 1930. He was a machinist though he had been an apprentice gun fitter in England.

William (1883), whose twin sibling died at birth

Mary (b 1878, known as Polly) moved to USA in 1896 as a servant to the Prince family in Sangamon Illinois. In 1905 she was at 707 South Sixth Street, Springfield, Illinois.

Alice Jane, (b 1875), the eldest of the family, who married Tom Kennedy.

John (b 1885, known as Jack)

It is from this generation that we have the earliest surviving photographic evidence of the Grey family. There is no known photograph of Patrick Grey (1845).

The first shows John Grey (born 4.10.1885) who was father to Edward, grandfather to Duncan, with his mother, Alice Jane Gray (nee Armstrong) born 1849 in a photograph taken in about 1897.

Alice Jane would then be 48 years old but looks worn and tired. She holds a paper in her hand (?significance? death certificate of Patrick?) and wears a knitted shawl pinned tightly up to her neck.

Alice Jane Grey (b 1849) and her son John (b 1885)

With no photograph of Patrick Grey and only four pieces of documentary evidence, we fall back on family memories to fill out his life.

The first memory is rather unusual, and relates to an explosion on Newcastle Town Moor in 1867, when, it is said, Patrick was passing nearby. This explosion, caused by a spark igniting explosives captured from IRA bombers when police were trying to dispose of the equipment, is detailed elsewhere. It is unusual in terms of this family tree because it tells us exactly where one of our ancestors was at a precise time.

The horse accompanying Patrick was so frightened that it did not stop until it reached Cowgate, at least a mile away.

Further family memories indicate he held a wide range of jobs. It is said he was very good with horses and that he was often called upon to calm disturbed horses in the mines. Another job was to carry cauldrons of molten metal in an iron foundry where apparently he had to walk over a bath of cold water - into which he could jump if he caught fire...

Research in Leitrim suggests that there is no further information available about the Greys of Leitrim. The rest will remain speculation.

Alice Jane Grey (born 29.12.1875), daughter of Alice Jane nee Armstrong and sister of John (born 4.10.1885)

Alice Jane was the eldest child of the marriage between Patrick Grey and Alice Jane Armstrong.

Below is a photograph of John Grey (born 4.10.1885) and taken in about 1899. (below)

John Grey is father to Mary (1913), John (known as Jack, 1922), Edward (known as Ted, 1924), Beatrice (1926), Nora (1929) and Dorothy (1932).
---

John Grey (1885)
John Grey, pictured here in about 1899, was born in Newcastle upon Tyne on October 4th 1885. He was a son for Patrick the elder and Alice Jane Grey the elder and a brother to Patrick the younger, William, Mary, and Alice Jane the younger.
The photograph to the right shows him in about 1899.
At one time he owned a Boot and Shoe shop on St John's Road, at the end of Rachel Street, Newcastle, opposite the cemetary. By a strange coincidence, some 60 years later his daughter Beatrice was passing St John's Road in the late 1970's and saw the shop in the process of demolition; the shop proclaiming Grey's Boots and Shoes was revealed briefly, then was gone forever.
John married Mary Derrick (born 1892) in Newcastle on November 6th 1912. Their children were:
Molly 1913, John, known as Jack, 1922, Edward, known as Ted, 1924, Beatrice, known as Bea 1926, Nora 1929, Dorothy Mary 1932
John Grey (1885) was in the Royal Garrison Artillery during World War I, stationed for a time in Cologne. After the war he became an insurance salesman, then sold Scotch Drapery until his business crashed with The Depression in the 1930's.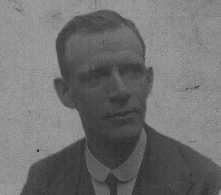 He had a fine Northumbrian accent and I remember that he brewed his own beer - until an over-active bottle popped its cap while he was examining it and left a mark in the centre of his forehead. He wore ankle height black leather boots and in his later years seemed to eat little but Newcastle Brown Ale and Heinz tomato soup. In fact until his eighties he kept the books for his daughter Bea's fruit and flower shop.
The picture on the left below is of Mary Grey (nee Derrick, 1892) with a young Edward Grey on her lap. Taken at Cullercoats on the Northumberland coast in about 1924. The next is from about 1925 showing Molly, Edward, Mary and John (Jack). The last is of Mary Grey in about 1914.
Edward Grey is father of Duncan Grey, and of Robin Grey, son of John Grey, grandson of Patrick Grey the elder.
Contact Duncan Grey at dsg@post.com
DSG 1.9.99